[ad_1]

Editor's note: Jan Risher had the idea to speak with local Ukrainians about Easter eggs and decorations because she remembered the spring she spent there and the tender care every household she visited spent in preparing the Easter decorations, with the eggs being the crown jewels of the event.
When Risher connected with Daria Antonovskaya three weeks ago and explained she was looking for Ukrainians decorating Easter eggs, Antonovskaya said LSU's Ukrainian Student Association was planning an egg decorating event and invited Risher to join them.
LSU's Ukrainian Student Association Easter egg decorating event did not go as planned.
Easter eggs are a big deal in Ukraine. The most traditional Ukrainian eggs are called pysanky. Their intricate designs are painstakingly made using the wax-relief process. The design motifs on the Ukrainian-style eggs date back thousands of years to pre-Christian times, according to many scholars.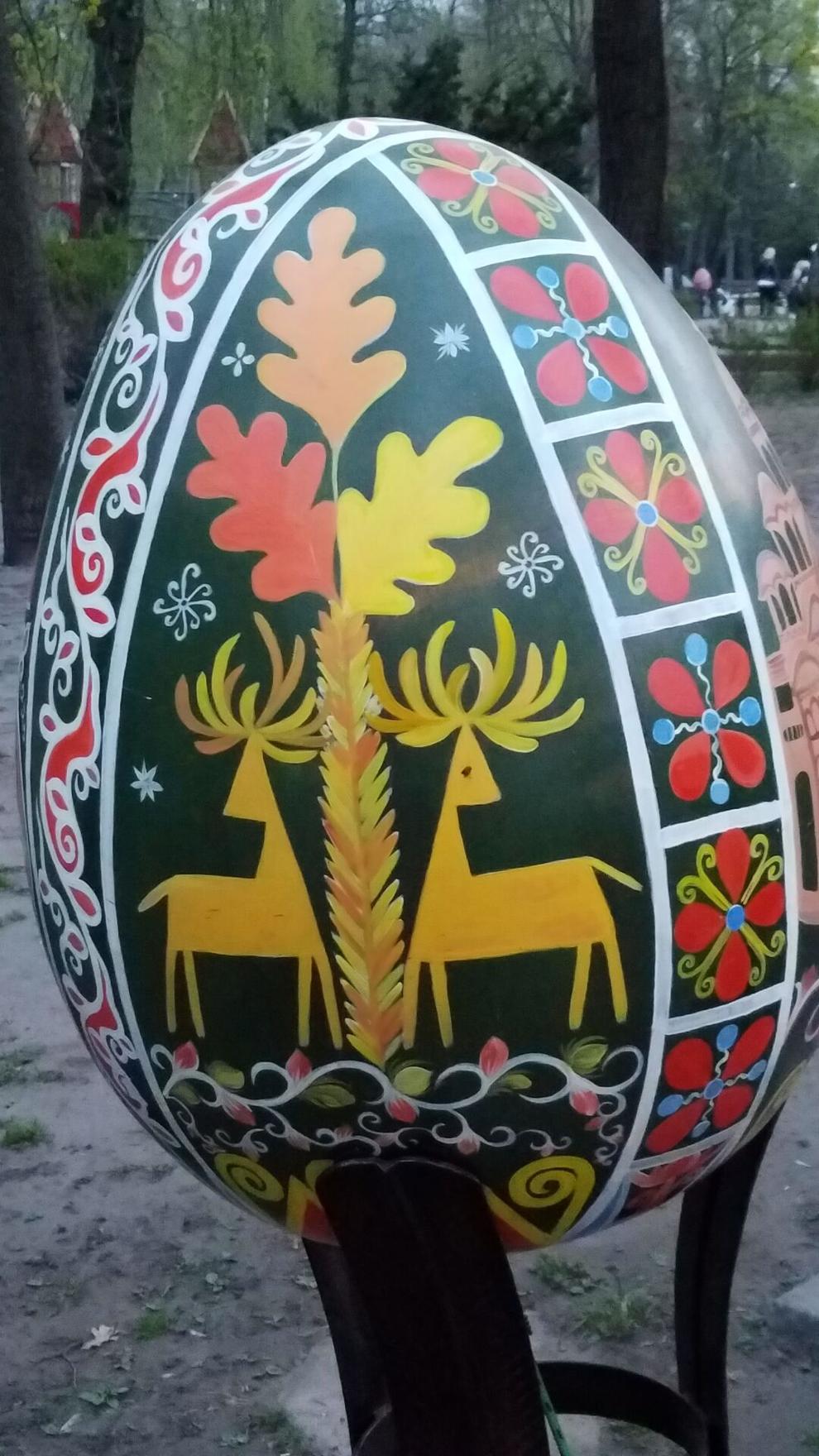 After many changes in plans in the association's Easter egg decorating efforts, five of its 19 members — all young men ranging in ages from 19 to 24, including four Ukrainians and one Russian — ended up at my house Monday night to decorate Easter eggs in what turned out to be a mashup of a masterclass in diplomacy and the television show called "Nailed it," in which home bakers take a crack (and usually fail) at re-creating masterpieces.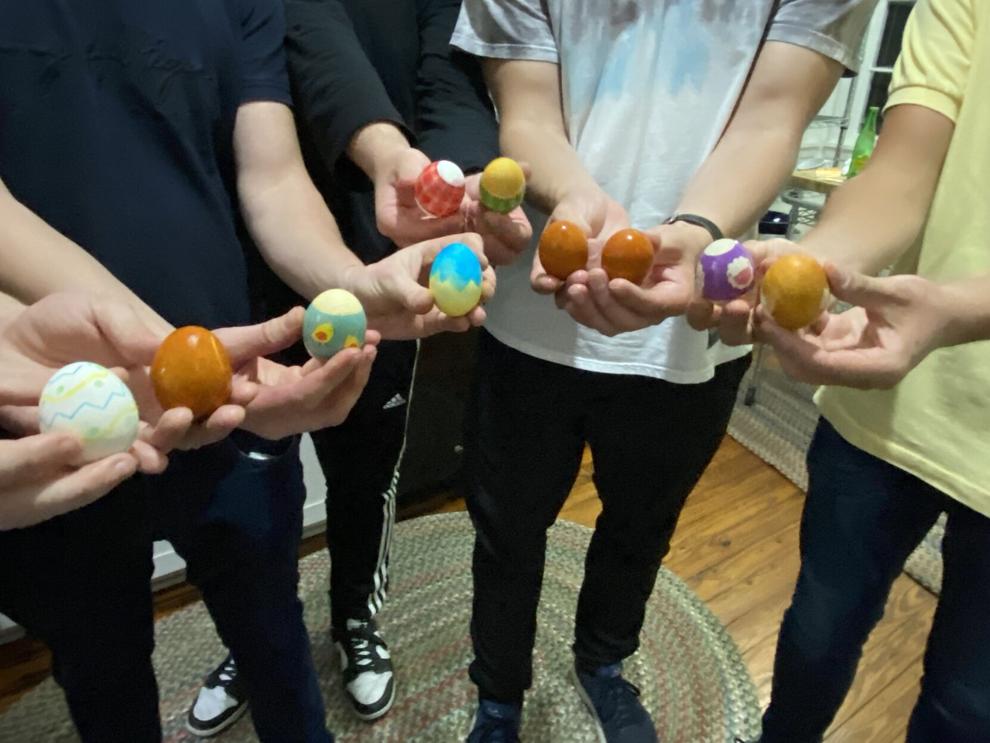 Daria Antonovskaya, 24 and from Dnipro, Ukraine, founded the organization and is president of the group. She said such activities as decorating Easter eggs are important for the Ukrainian students.
"It assures the guys they still have their culture, not only the cultural, but the ritual of this activity," she said. "It helps us stay in touch with our roots — to support ourselves emotionally and to offer comfort. It's a great way to recall that, 'Hey you are Ukrainian.'"
To the students' credit, they called their mothers and grandmothers to discuss the details of how to execute the egg decorating most had not done since they were children.
"In my family, all the Easter eggs and biscuits are in the sphere of my mother," said Nick Koval, a 23-year-old junior microbiology major, who arrived in Baton Rouge from Ukraine in August 2021. Koval explained that, aside from decorating eggs leading up to Easter, his mother also makes a beautiful kulich, a "very tasty cake that is very hard in the cooking. Preparing it takes many hours."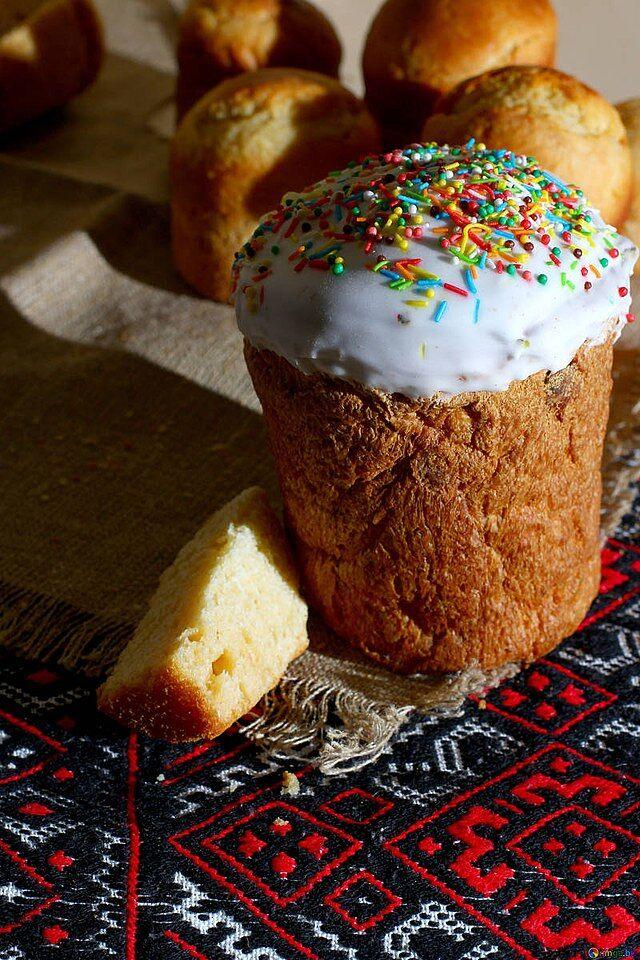 He acknowledged that dying eggs was an unusual thing for him and his friends to do.
"At home, men's work at Easter is to cook some meat," he said. "But now, the main thing is not to create the egg as masterpiece. The main thing is to have everyone together and talk. This process is to unite us."
Nonetheless, the five young men grated beets to make pink dye. They peeled the outer layers of a bag of yellow onions to make brown dye. They laughed like kids and plunked all the artificial dye tablets together to make a purple concoction to dye other eggs.
The juxtaposition of these students being young men, laughing and turning some of the process into science experiments to the stories they told me individually was powerful. They are all aware that, because of the war, men in Ukraine between the ages of 18 and 60 are not allowed to leave the country in case they are needed to fight.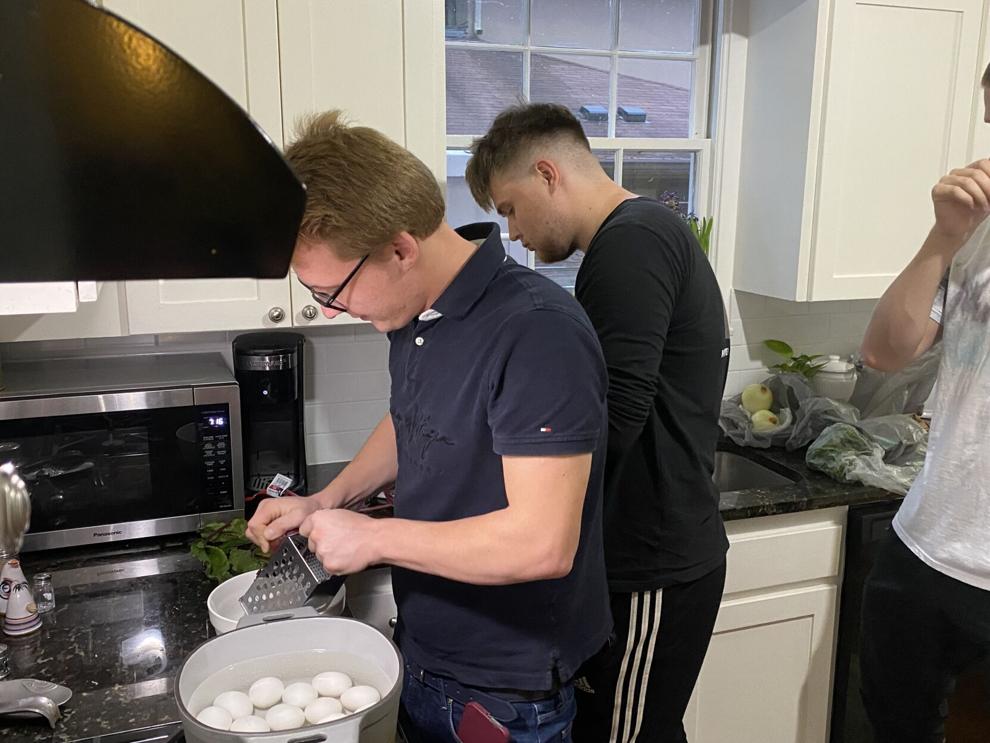 Their feelings of love for country and wanting to be home positioned against their families' insistence that they focus on their studies hung over the time we spent together.
In the end and by their own admissions, they did not create masterpiece Easter eggs this week.
Oleg Hrushetskyi, 24
Oleg Hrushetskyi, a 24-year-old college senior at LSU majoring in agricultural business, will graduate in May. He's in the process of looking for a job and has an interview in Wisconsin next week. Hrushetskyi went home to the Kirovohrad region of Ukraine to his family farm for Christmas. He never saw the war coming.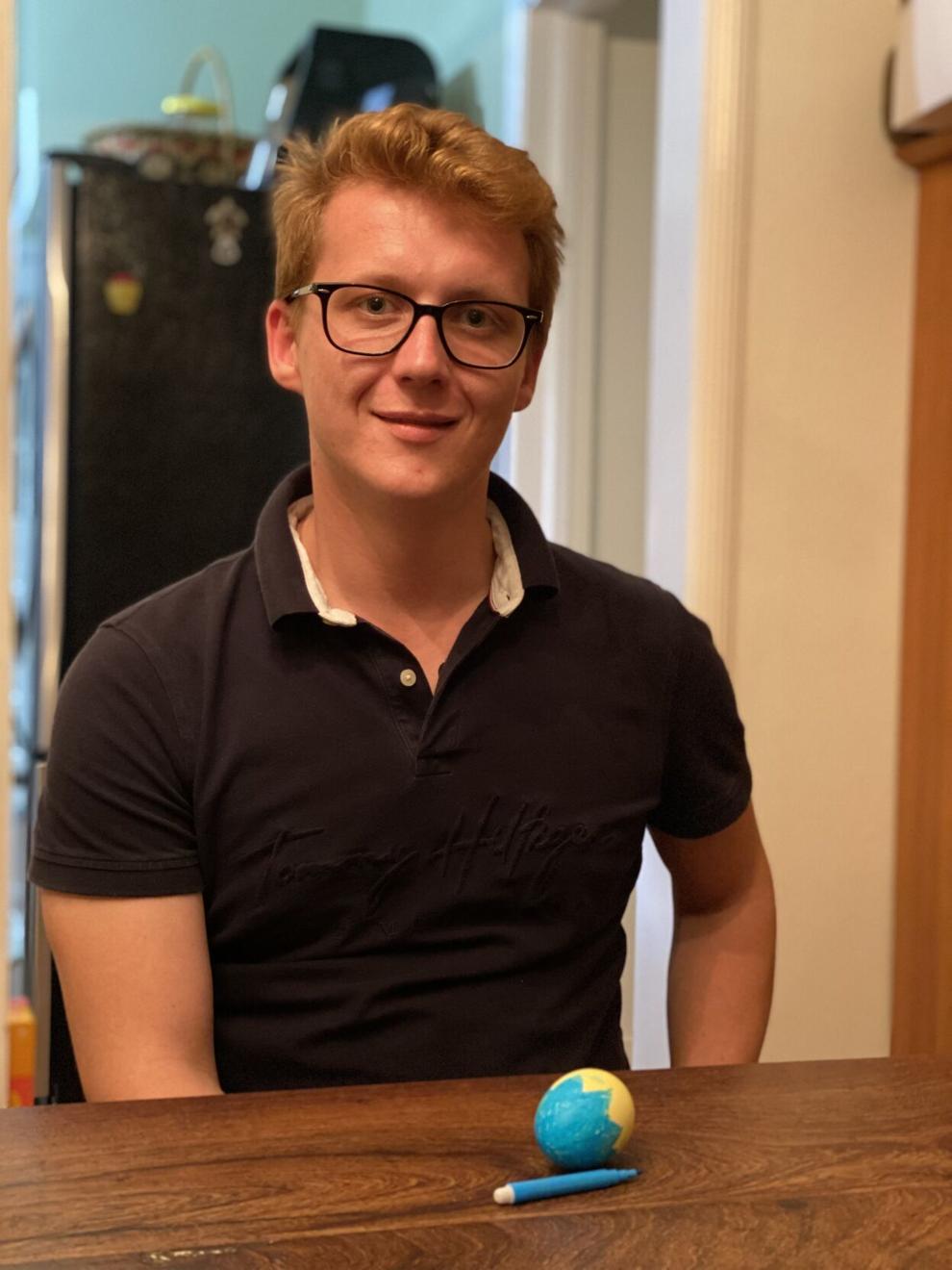 "There were a lot of rumors. I didn't believe it. 'It's never going to happen,' I thought," he said.
Hrushetskyi, the youngest child in his family, has two older brothers, 27 and 31. They, along with his father, mother and grandmother are still in Ukraine.
"My mother said she's never going to leave home," he said.
His 31-year-old brother was able to get his wife and their two daughters, ages 4 and 7, out of Ukraine to Greece.
"On Feb. 23, my brother called and said something bad was happening in our country. I was on phone with them as they tried to leave Kyiv," Hrushetskyi said. "It was a long night. I was talking to my family and found they were safe. They told me to get money from the bank. We didn't know what was going to happen."
It turns out the Ukrainian banks have continued to function, according to Hrushetskyi.
I mentioned the agricultural impact the war in Ukraine could have globally, especially regarding wheat. With that, Hrushetskyi, while holding a yellow and blue egg he had just decorated, perked up.
"Yes, we are top five for wheat. Top six for corn. Top one for sunflower. Top one for honey. We produce 40 million metric tons of wheat," he said, with more energy than he had shown all night. He told me all about his giant family farm and the plans he had before the war to go home and work in his family's agricultural business.
"One day my life changed completely," he said.
This is his fourth year in Baton Rouge. He told me about leaving Ukraine one night in August 2018, wearing a coat. He arrived in Louisiana still wearing the coat.
"The people who met me started laughing. I did not know what was funny — until we went outside," he said. "I took my coat off."
I asked why he chose to come dye Easter eggs during such a busy time of his academic career.
"It's very important to do some cultural things to remind us of what we know back home," Hrushetskyi said. "Doing this is warming when you see so much terrible news from home. When you're doing this, sometimes you have those flashbacks from home — like when with your grandmother."
Hrushetskyi said he talks with his family a couple of times every day.
I asked if he was considering applying for asylum.
"No. I am never going to give up my Ukrainian passport," he said. "I want to share all the information about Ukraine. It's a very beautiful country. I just want everyone to visit Ukraine. I feel like every respectful person will make the goal to visit Ukraine once in their lives. They will say, 'This is the country that fought for its independence.'"
He said he wants people to know the history of his country.
"It's not the first time Russia is trying to occupy our country," he said before giving me a history lesson, emphasizing that Ukraine was independent in 1918-19, when Russia was busy overthrowing the tsar.
"All over, the world is helping us. It's not just Ukraine versus Russia. The whole world is helping us," he said.
Matvii Cheked, 19
"My father is still in Kyiv. My mother, grandmother, cousins are in England," said 19-year-old Matvii Cheked, a sophomore mechanical engineering major at LSU sitting at my table with beet juice on his hands and a tiny sticker of yellow chick on his glasses from the egg decorations my husband bought. "They've been in England for a week. They were in Romania before."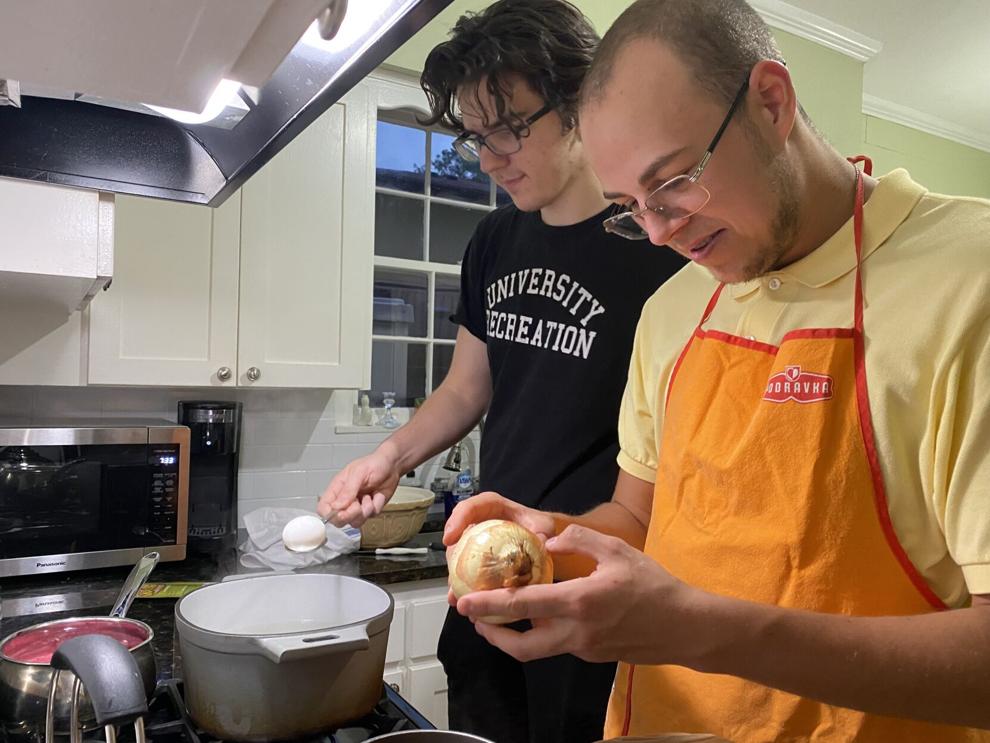 He explained that they fled Ukraine to Romania where a stranger opened his home and they stayed for several weeks.
"He had a 3D printer and he made them so many cool things," he said with a smile and then paused. "Seeing the news and horrible events to places I know, unfortunately …" and his voice trailed away.
We sat for a moment in quiet.
"At first, I didn't believe it when Oleg came to my room and said, 'Russia is bombing Ukraine,'" he said, adding that he is able to talk with his family often and that his father is still in Kyiv with the family dog.
"We talk, and he makes jokes with the dog. When we call each other, we have fun," he said. "I listen to the news, but it is different with listening to news and living there, like my dad."
He said he was heartened that the rest of the world wants Russia out of Ukraine.
"Nobody wants Russians occupying Ukraine," Cheked said, just before switching gears and telling me about the Easter Egg Museum in Ukraine, as we could hear a heated debate going on in the kitchen behind us about how to best decorate the eggs.
"I do not believe we will make eggs worthy of the museum," he said with a smile.
He went on to explain that life has been difficult since Feb. 24 when the war started. He doesn't like to talk about the situation in class, but he has appreciated writing about it some in his English class.
"My mother told me to focus on studying," he said.
Nick Koval, 23
Nick Koval, a 23-year-old microbiology major, arrived in Baton Rouge in August 2021. He is now a junior. Of the whole group, he decorated eggs the most recently — only a year ago.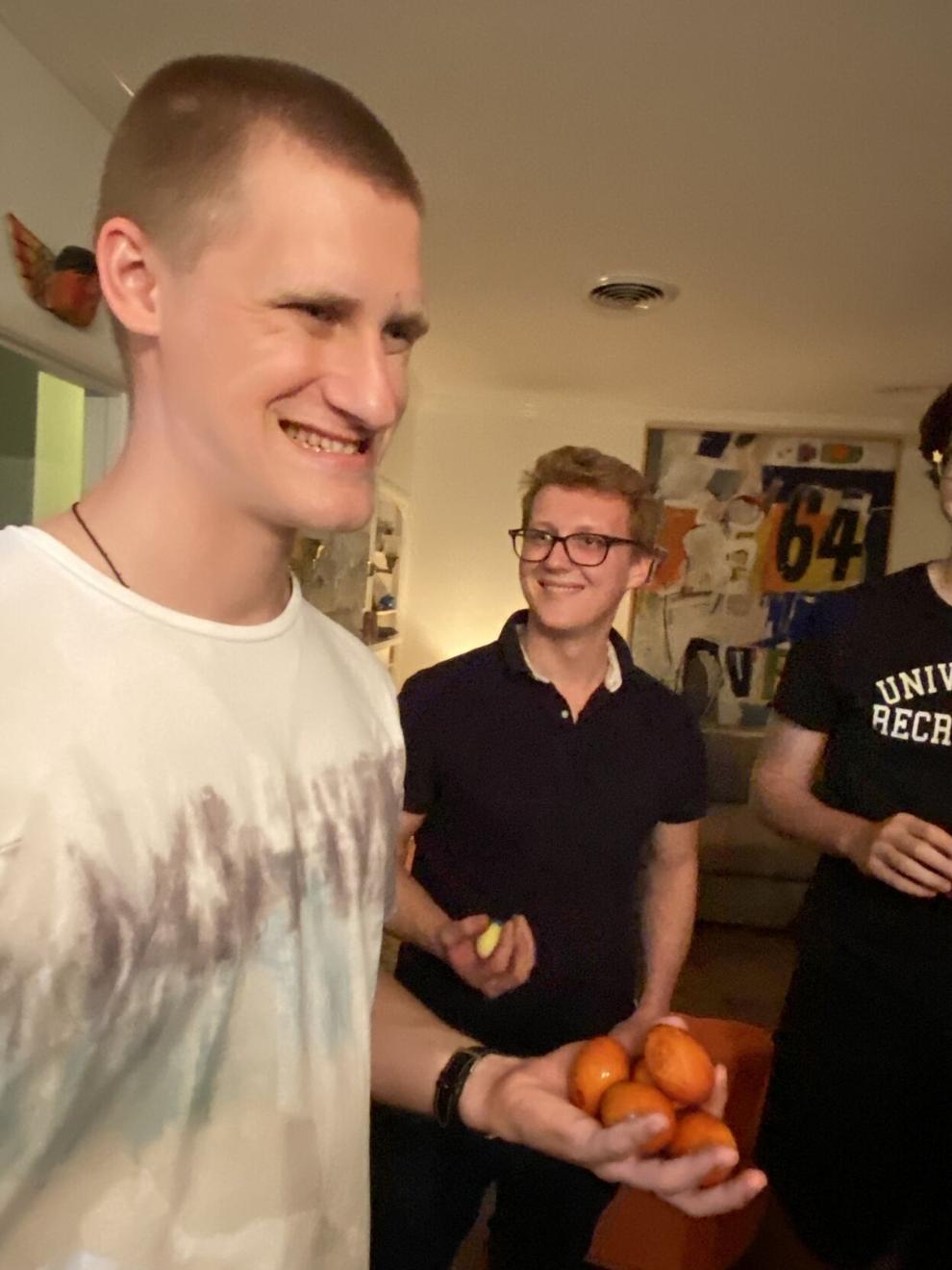 Koval's father is still in Kyiv, but his mother and grandmother arrived in Canada last week. His grandfather went back to Ukraine. Koval says he's spent more time this year with his Ukrainian friends.
"We ask each other the news about our families. We discuss the things from the front," said Koval, a very serious fellow, who does not seem like the type of guy willing to dye eggs.
He explained his reasoning.
"We want to spread the news not only about the war in Ukraine. We want to show our culture, how ancient it is, how beautiful it is and the connections between European and American culture," he said. "The red line through all of this is the Christian traditions — a lot of traditions, actually."
I asked when he thought he would be able to go back to Ukraine.
"I believe I will be able to travel this summer," he said.
I nodded and said, "Do you think you'll go back?"
"Not really, but this is what I hope for," he said. "Since February, I've learned how strong I am connected to my land and family. Every person in the world has a place to call home, a motherland. My place is Ukraine. I've learned where I'm planning to continue my life, to build my life. Now I understand the place I want to live and the place I love is Ukraine."
Then he told me about the weekend after the war started. He went that morning to Louis' Café.
"They placed some simple paper flags on the door," he said. "Personally, I feel comfortable in such places. They support for Ukraine."
He, too, then proceeded to give me a history lesson.
"The Russian/Ukrainian War is the conflict between the fourth largest country in the world and the second largest country in Europe. It is unprecedented for Europe since World War II," he said.
Georgii Ageenkov, 21
Georgii Ageenkov, the only member of the group from Russia, encourages everyone to call him George. He is majoring in petroleum engineering at LSU and plans to graduate in May. He is also in the process of looking for a job.
Ageenkov has been active throughout his studies with other international students, particularly those who spoke Russian. His approach to decorating eggs was slightly different from the Ukrainians' methods.
During the Easter egg decorating event, he spent time quietly peeling the outer layers of onions to make dye. (He calls these onions brown onions. Americans call them yellow or Spanish onions.) Ageenkov boiled the onion skins in water and added some vinegar and salt. He had asked me in advance to buy "brown onions, women's tights, parsley and dill" for his Russian-inspired Easter eggs, decorated as his grandmother did.
The onion-created dye was very effective, but the eggs' decorations did not turn out as planned.
After his efforts, he said, "I have no idea how my grandma was doing this alone every time. Her Easter eggs were always perfect."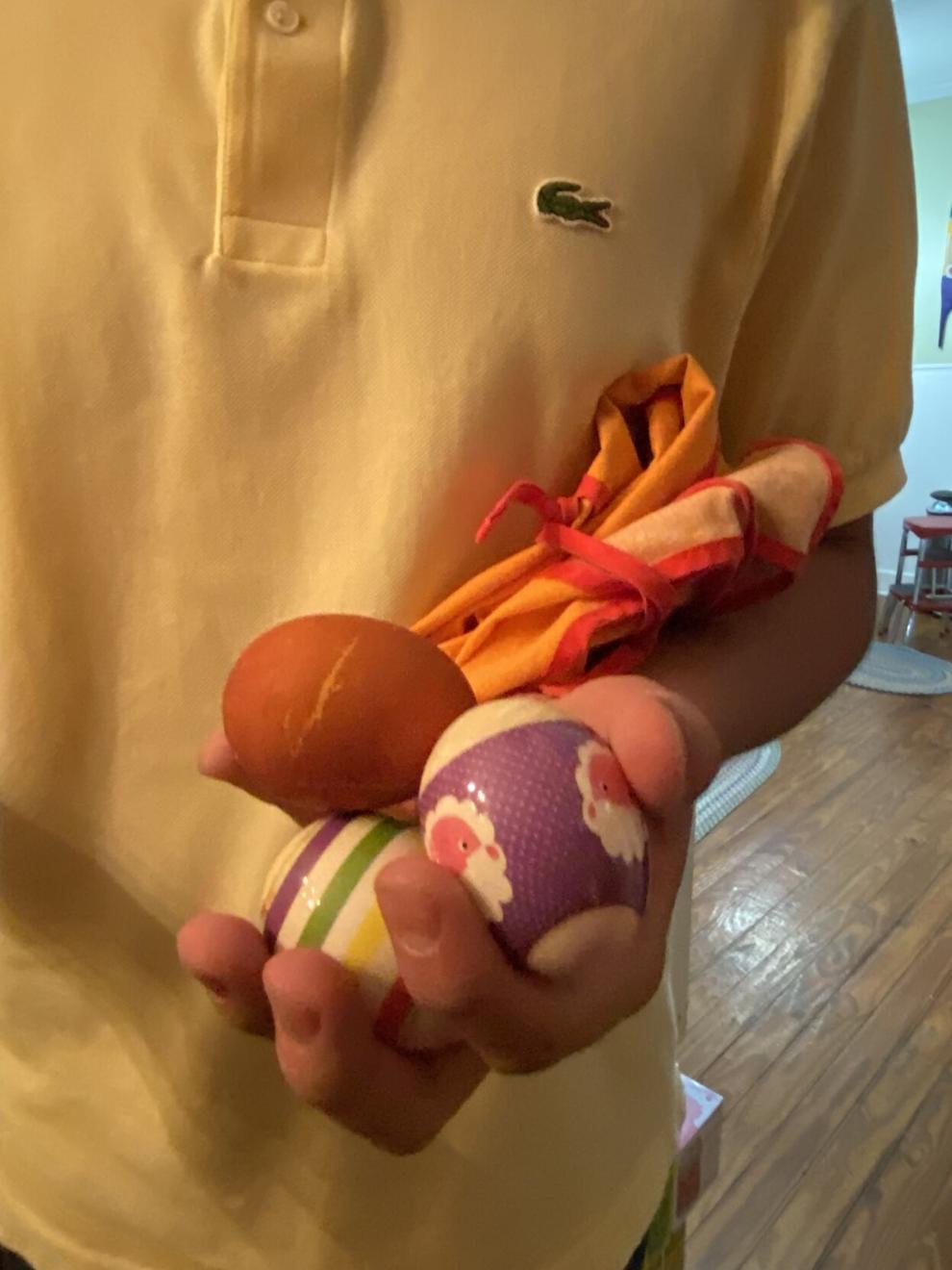 Ageenkov is an only child from St. Petersburg. He went to the city's top school for math and physics and was on the student council there. He's an organizer. At LSU, he organized intramural international soccer teams.
He and Hrushetskyi arrived in Baton Rouge on the same day.
"George? I met him on my first day here. He supports us," Hrushetskyi said.
Ageenkov and Koval often work together too, but the tension is there. They are polite to each other, but not exactly warm.
Even still, Ageenkov keeps showing up.
I asked him why — and if he acknowledged the tension.
"Yes, the situation is incredibly stressing," he said. "They all have feelings, and I'm trying my best. Sometimes I wonder if I should go see a psychologist."
Antonovskaya says some of the other Russians who were involved in the Ukrainian Student Association have stopped coming.
"George keeps showing up," she said, acknowledging the "weird association" caused by watching the news and the Russians she knows and likes.
"I am a human being and understand that it doesn't make any sense to have this negative feeling toward Russians here, but I had to overcome this," she said. "In a broader perspective, it taught me that it's a bad thing when one nation is positioned against another. So, I believe we have to overcome that."
She said when she was feeling hard toward local Russians, she never said anything to them, but one day George asked her what was going on.
"I think he could feel it. We talked. He said, 'Don't be alone with that.' We are OK now. I don't want to spread hate and awkwardness."


[ad_2]

Source link